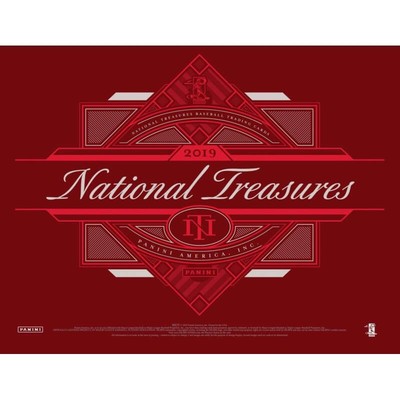 Roger Clemens - 2019 NATIONAL TREASURES BASEBALL 4BOX PLAYER CASE BREAK #14
Description
You are bidding on a/n 4 Box (1 Case) PLAYER Break of 2019 National Treasures Baseball cards with BAT KNOB BOUNTY The winner of this auction will be able to watch the break live as well as any cards pulled from the team listed in the title. You ARE NOT bidding on the contents of an entire box or case of cards. This auction complies with all Ebay listing regulations and requirements. WE SHIP INTERNATIONAL! INTERNATIONAL SHIPPING CHARGES APPLY. Domestic Shipping is a $4.00 charge regardless of how many teams/players you purchase in this break only. If you purchase multiple teams/players in this break, please wait to receive an invoice before sending payment. SHIPPING CANNOT BE COMBINED ACROSS MULTIPLE BREAKS. PAYMENT IS DUE WITHIN ONE HOUR OF THE END OF THE AUCTION OR RECEIPT OF YOUR INVOICE. FAILURE TO PAY WITHIN THIS TIME PERIOD MAY RESULT IN CANCELLATION OF YOUR BID. THIS IS A HIGH RISK BREAK AS ONLY APPROIMATELY 32 CARDS WILL BE PULLED. PLEASE CONSULT THE PRODUCT CHECKLIST BEFORE BIDDING AS MANY PLAYERS HAVE LIMITED CARDS IN THE PRODUCT! Payment should be made by Paypal and no echecks. The break may be viewed live on YouTube at approximately 9:00 pm Eastern on Tuesday February 25th, 2020. Search for Palmetto Collectables in YouTube. A video of the break will be uploaded to YouTube shortly after the break concludes. Players pulled go to the spot/team listed on the back of the card. Multi player cards will be randomized to the spots/teams listed on the card. Any Panini Points pulled during the break will be randomized to all participants in the break. Items will ship within 96 hours of the end of the break. ****************************************************************************** BAT KNOB BOUNTY As a bonus to the break if during the break if we pull a card from the "Bat Knobs Set" we will add an additional 4 Box case of 2019 National Treasures Baseball to the Break. ****************************************************************************** Product Description: Chase high-end hits in 2019 Panini National Treasures Baseball. An annual favorite for MLBPA fans, every eight-card box is packed with autographs and relics, and promises one booklet. This mirrors the 2018 NT version, which also boasted a hit-only product line. The SRP is $500 per box. 2019 Panini National Treasures Baseball Autographs The 2019 Panini National Treasures Baseball checklist offers a large assortment of on-card autographs, especially for the top 2019 MLB rookies. This includes Rookie Signatures, Rookie Signature Names with die-cut relics similar to Topps Triple Threads, plus Social Signatures, Rookie Material Signatures and Rookie Triple Material Ink. More hard-signed cards come in Retro Signatures, which features past and present stars, as well as the all-new Shadowbox Signatures line with an added relic swatch. 2019 Panini National Treasures Baseball Memorabilia Another big aspect of NT is the large run of prime memorabilia. 2019 Panini National Treasures Baseball works in premium choices like Bat Barrels, Bat Knobs, Bat Nameplates, Cleats, and Identification Tags. 2019 Panini National Treasures Baseball Booklets Falling one per 2019 Panini National Treasures Baseball box are the many oversized booklet cards. There are Legends Material Booklets in single, dual, triple, and quad versions. In addition, first-year stars come via Rookie Signature Jumbo Material Booklet and Six-Pack Material Signatures Booklet cards. Even with all this, the biggest chase in 2019 Panini National Treasures Baseball is likely the Cut Signature Booklet dual for Babe Ruth and Honus Wagner or Babe Ruth and Ty Cobb. These book cards also contain small relic pieces for each player. Estimated Release Date: September 27, 2019 Product Configuration: 8 cards per pack, 1 pack per box, 4 boxes per case 2019 Panini National Treasures Baseball Hobby Box Break Average · 8 Autographs or Memorabilia Cards
No further condition information found.
This item is a
good enough match
to
roger clemens 2019 national treasures baseball 4box player case break
.
Gimmu only found one item matching your search.