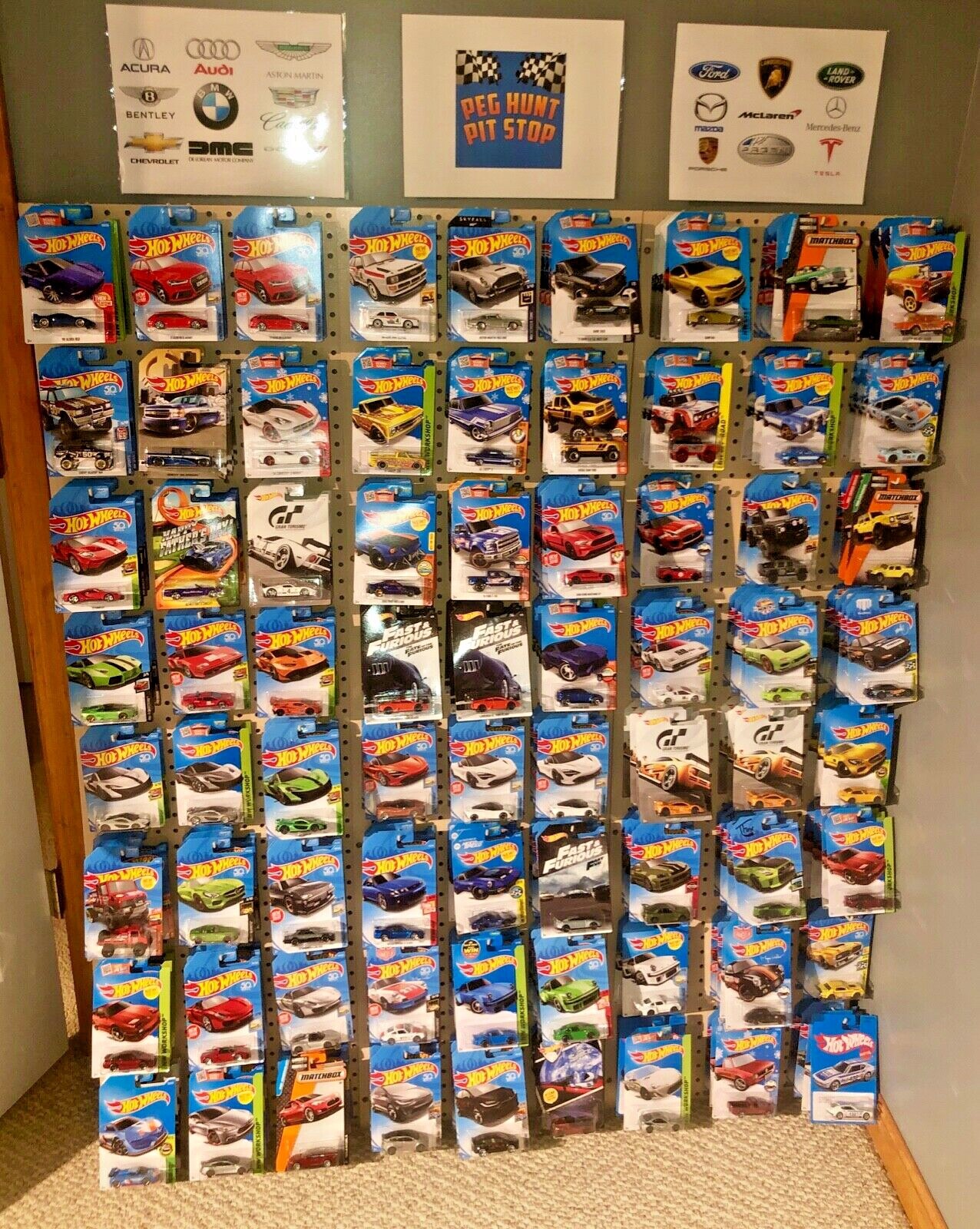 MEGA Hot Wheels SALE ~ 2019 & 2020 Super Treasure Hunts, Chases, & Mainlines
Description
For sale are these various Hot Wheels and Matchbox castings! Please use the drop down menu to select a car/truck of interest and a close up picture will appear. The conditions of the cards range from Fair to Mint condition. For any questions regarding a particular casting, please do not hesitate to ask! I will combine shipping for purchases of 2 or more. eBay shipping is difficult so here at Peg Hunt Pit Stop, we believe in fair pricing. Any time shipping costs exceed $1 more than it costs us for postage, we will refund to you the difference. International shipping is available through the eBay International program. I will ship to their home office and you will have to pay them for shipment to you. There are many different styles available ranging from Leap Year editions, Father's Day editions, and rare holiday snowflake card variations. Some of the series these castings come from include: Super Treasure Hunt, Hot Wheels id, Factory Fresh, Then and Now, HW Workshop, Treasure Hunt, HW Screen Time, BMW set, HW City, Gran Turismo, Fast & Furious, HW Hot Trucks, HW Exotics, HW Speed Graphics, Nissan, First Editions, HW Metro, Nightburnerz, HW Showroom, and many more! For a full list of cars both previously and currently in stock please see below: '67 Jeepster Commando (SUPER TREASURE HUNT)Nissan Skyline GTR R32 (SUPER TREASURE HUNT)Tesla Model S (SUPER TREASURE HUNT) '12 Acura NSX Concept (Yellow)'90 Acura NSX (White)'90 Acura NSX (Blue)'17 Audi RS 6 Avant (Red)'84 Audi Sport Quattro (White)Aston Martin 1963 DB5 (Silver)Aston Martin Vulcan (Green)Aston Martin Vulcan (White)Bentley Continental Supersports (Blue)BMW 2002 (Black)'73 BMW 3.0 CSL Race Car (White)2016 BMW M2 (Blue)2016 BMW M2 (Red)BMW M4 (Gold/Green)BMW M4 (Safety Car/White)BMW M4 (Red)Bugatti Chiron (Black)'16 Cadillac ATS-V R (red)Cadillac Elmiraj (Blue)'69 Cadillac Sedan Deville (Green)1985 Chevy Astro Van (Star Wars)'67 Chevelle SS 396 (Leap Year / Gray)'55 Chevy Bel Air Gasser (Heat Fleet/Orange)Chevy Blazer 4x4 (Maroon/K-Day Exclusive)Chevy '64 Nova Wagon Gasser (Blue) '68 Chevy Nova (Zamac 2020)'67 Chevy C10 (Yellow)'67 Chevy C10 (Black)Custom '62 Chevy (Yellow)Custom '62 Chevy (Teal)Chevy '10 Pro Stock Camaro (Purple)Chevy Silverado (Blue)'13 Chevrolet Copo Camaro (Orange)Chevy Custom '11 Camaro (Father's Day/Orange)'63 Chevy II (Blue)Custom '72 Chevy Luv (Yellow)Chevy '14 Corvette Stingray (White)Corvette Grand Sport (Zamac)'71 Datsun Bluebird 510 Wagon (Blue) '71 Datsun Bluebird 510 Wagon (Momo Red)'66 Dodge A100 (Red)'69 Dodge Charger (Yellow)Dodge Ram 1500 (Yellow)Ferrari F333 SP (Red)Fiat 500 (Polizia Blue)Custom Ford Bronco (Silver)'60's Ford Econoline Pickup (50th Anniversary)id Ford Escort (Hot Wheels id)'70 Ford Escort RS1600 (Blue First Edition)'70 Ford Escort RS1600 (White First Edition)'15 Ford F-150 (Blue)Ford GT40 (Blue GULF)Ford GT (White/Gran Turismo)'17 Ford GT (Red)'17 Ford GT (Silver)'56 Flashsider (Real Riders)'63 Mustang II Concept (Father's Day)'92 Ford Mustang (Teal)2005 Ford Mustang (Blue/Orange)'71 Mustang Mach 1 (Red)2015 Ford Mustang GT (Yellow)2018 Ford Mustang GT (Red)2018 Ford Mustang GT (Blue)'29 Ford Pickup (Green)Ford Shelby GT350R (White)'69 Ford Torino Talladega (Blue) '91 GMC Cyclone (Black)'90 Honda Civic EF (White) '52 Hudson Hornet (Black)'15 Jaguar F-Type Project 7 (Red)Jeep CJ-7 (Treasure Hunt / Orange)Kool Kambi (Magnus Walker White)'15 Land Rover Defender Double Cab (Gray)Lamborghini Aventador Miura Homage (Red)'16 Lamborghini Centenario Roadster (Gray)Lamborghini Countach Pace Car (Red)Lamborghini Countach Pace Car (White)Lamborghini Gallardo LP560-4 (Police MBX)Lamborghini Huracan LP 620-2 Super Trofeo (Orange)Lamborghini LM002 (Yellow)Lamborghini Murcielago (Batman Series)Lamborghini Murcielago (Orange Fast & Furious)Lamborghini Reventon (Lamborghini Series)Lamborghini Reventon Roadster (Green)Lamborghini Sesto Elemento (Green)Lamborghini Urus (Blue)Lamborghini Veneno (Forza Edition)Lamborghini Veneno (Green)Mazda Repu (White)'95 Mazda RX-7 (Black)'95 Mazda RX-7 (Green)'95 Mazda RX-7 (Zamac)McLaren F1 GTR (Black)McLaren F1 GTR (Orange Gran Turismo)McLaren P1 (Green)McLaren P1 (Orange)McLaren P1 (Silver)McLaren P1 (White)McLaren 720S (Orange)McLaren 720S (Purple)McLaren 720S (White)McLaren Senna (Orange)'15 Mercedes AMG GT (Green)'15 Mercedes AMG GT (Yellow)Mercedes-Benz Unimog 1300 (Red)'68 Mercury Cougar (Yellow K-Day Exclusive)Nissan Fairlady Z (Blue)Nissan Fairlady Z (White)Nissan Fairlady Z (Yellow),96 Nissan 180SX Type X (Red First Edition)Nissan 300 ZX Twin Turbo (Red)Nissan Silvia S15 (F&F Edition)Nissan Skyline R30 (Gray)Nissan Skyline R30 (White)Nissan Skyline GT-R R32 (Blue)Nissan Skyline GT-R R33 (Blue)Nissan Skyline GT-R R33 (Red)Nissan Skyline GT-R R34 (Green)2009 Nissan GT-R (Silver Fast & Furious)'17 Nissan GT-R R35 (Guaczilla / TFox) '17 Nissan GT-R R35 (50th Anniversary Edition)Nissan Skyline Silhouette'71 Plymouth Satellite (Real Riders)'77 Pontiac Firebird T/A (F&F Edition)'71 Porsche 911 (White)Porsche 911 GT3 RS (Purple) Porsche 917LH (Zamac 2020)Porsche 918 Spyder (Blue)Porsche 918 Spyder (Red)Porsche 918 Spyder (Silver)RWB Porsche 930 (Silhouettes)Porsche 934 Turbo RSR (Blue)Porsche 934 Turbo RSR (Blue / Falken Decals)Porsche 934 Turbo RSR (Green)Porsche 934 Turbo RSR (Silver / Falken Decals)Porsche 934.5 (White)Porsche 365A Outlaw (Black)Porsche Panamera Turbo S (Gray)Renault Megane Trophy (Blue Gran Turismo)Renault Sport RS 01 (Blue)Renault Sport RS 01 (Gray Gran Turismo)Subaru Imprezza 22B STi-Version (Blue)Subaru Imprezza 22B STi-Version (Red)Tesla Model 3 (White)Tesla Model S (Red MBX)Tesla Model S (Silver)Tesla Model S (White)Tesla Model X (Black)Tesla Model X (Gray)Tesla Roadster (Greetings From Space)1987 Toyota Pickup (Blue Card)Toyota* Scion FR-S (Silver)Volkswagen Caddy (Red)Volkswagen Golf GTI (Red MOMO)'69 Volkswagen Squareback (Zamac)Volkswagen SP2 (Blue Card)Volkswagen T1 Drag Bus (50th Anniversary)Volkswagen T2 Pickup (Mint Green)Volkswagen T2 Pickup (Tan)'41 Willy's (Holiday Card) Thank you for checking out this listing! Please check out our many other Hot Wheels and other Diecast collectible listings! Again, please, if you have questions regarding card condition before purchase, please ask. There will be NO REFUNDS due to lack of reading the item description. Thank you!
No further condition information found.
This item is a
good enough match
to
mega hot wheels sale 2019 2020 super treasure hunts chases mainlines
.
Gimmu only found one item matching your search.