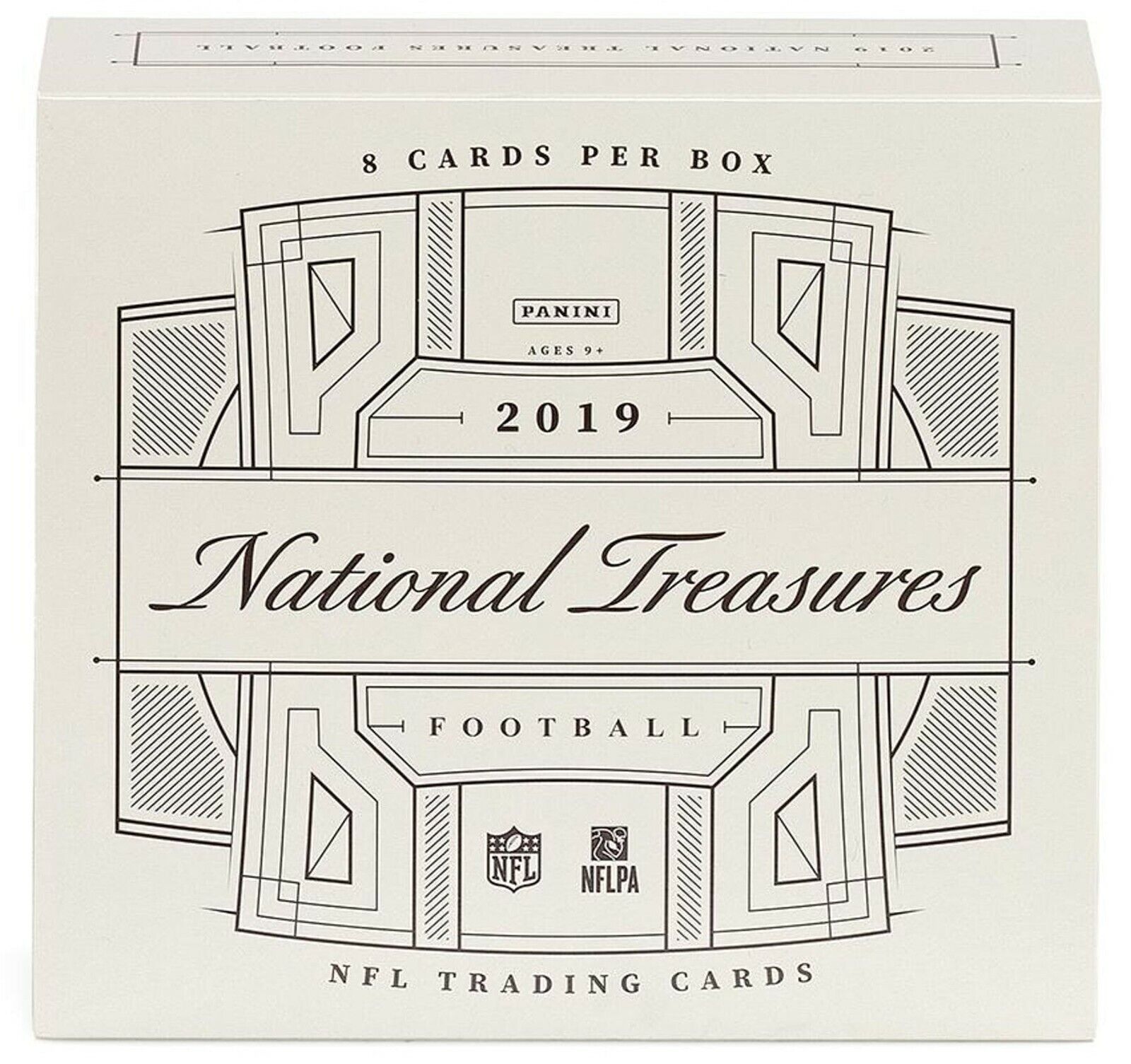 LIVE GROUP BREAK - 2019 NATIONAL TREASURES FOOTBALL HOBBY BOX - RANDOM PLAYER
Description
PLEASE READ THE ENTIRE LISTING BEFORE YOU MAKE A PURCHASE AND ASK ANY QUESTIONS BEFORE YOU BUY! There are NO RETURNS AND NO REFUNDS for this item or for any associated shipping costs. All relevant information is provided and it is incumbent upon the buyer to READ IT and to ASK QUESTIONS PRIOR TO MAKING A PURCHASE. YOU ARE *NOT* BIDDING ON, BUYING OR OTHERWISE ENTITLED TO A PACK, BOX OR CASE. This is a LIVE STREAM BOX BREAK listing, not an listing selling new or sealed packs or boxes or cases or items. THERE IS *NO GUARANTEE* THAT ANYTHING WILL BE PULLED FOR YOUR TEAM OR PLAYER (AS APPLICABLE) IN THIS (OR IN ANY OTHER) LIVE BREAK. THIS IS A 2019 PANINI NATIONAL TREASURES FOOTBALL RANDOM PLAYER HOBBY BOX BREAK**If you have never participated in a group break before or don't understand how this works, please email or message me prior to bidding. You can also check out the Group Breaks tutorial video on our YouTube channel (The Hunt Club). There will be no refunds issued after the break has occurred. NOTE THE FOLLOWING:1. THIS IS A LIVE GROUP BREAK. YOU ARE NOT BUYING A CARD, BOX OR CASE OF PRODUCT. YOU ARE PURCHASING A SPOT IN A LIVE GROUP BREAK.2. THE BREAK WILL OCCUR LIVE ON OUR YOUTUBE CHANNEL AS SOON AS ALL SPOTS HAVE BEEN SOLD. THIS COULD TAKE SOME TIME. WE APPRECIATE YOUR PATIENCE. All Cards Ship!!You are bidding on the right to receive all cards of a random player from a SEALED hobby box of 2019 PANINI NATIONAL TREASURES FOOTBALL. Prior to the break, the names of all buyers will be randomized and matched up against a randomized list of players contained in the product (this will be done live on our YouTube channel for all to see, just prior to the break). In other words, each buyer will be matched up with a player (the more spots you purchase the more players you earn the right to). If I pull your player during the live YouTube stream of the box break, it's yours. Some great rookies possible in this high-end product including Kyler Murray, Drew Lock, Daniel Jones and Dwayne Haskins. All boxes factory sealed. The break will appear live on YouTube within 48 hours of listing end. If less than 90% of the break spots fill prior to listing end, we reserve the right to extend or cancel the listing. In the unlikely event that the listing is cancelled, all buyers will receive a full refund of their purchase price. Please keep in mind that because this is a random player break there are a large number of spots in the break. It could take SEVERAL WEEKS for all spots to fill (but we believe it will be worth the wait). As soon as all spots are full, we will notify all buyers and break the box live on YouTube. You will be notified via eBay message of the exact date and time of the live box break.https://www.youtube.com/channel/UCywIv0L2pT3s6vfhZiIFIFA? Free Shipping!!! Breaks will also be uploaded to YouTube after the live group break has been completed.YOUTUBE CHANNEL THE HUNT CLUB **IMPORTANT** You are not guaranteed in any way to receive a card from the break. You are bidding on the right to receive all cards of a specific player IF any cards are pulled from the box. Upon selling all player spots, you will receive a link to our YouTube channel for the live stream of the box break. Please note that there is no a set date for this break. It is dependent upon how quickly the player spots sell. Upon completion of the break, each buyer will receive only the card(s) represented by his/her player(s) if pulled from the box. For cards with multiple players from multiple teams - if someone owns greater than 50% of the card (i.e. two of the three players are from one team), that person will receive the card. If there is no majority ownership, a randomizer will be used again to determine who will receive the card at the end of the break. In case that a player is pulled showing in one team's jersey, but has since moved on to another team or retired, that player will go to the team showing on the card. If there is no visible team showing, the card will go to whichever team the player spent the majority of his career with. We will have final discretion over any other cards that do not meet any of the above criteria, but rest assured, they will be divided as fairly as possible. If you have any questions about how a break works, please let me know, and I will be happy to explain further. GOOD LUCK AND WELCOME TO THE HUNT!!!
No further condition information found.
This item is a
good enough match
to
live group break 2019 national treasures football hobby box random player
.
Gimmu only found one item matching your search.