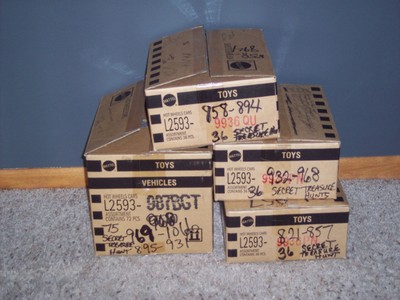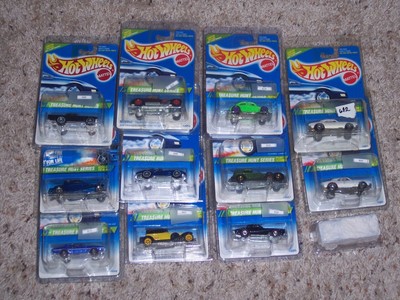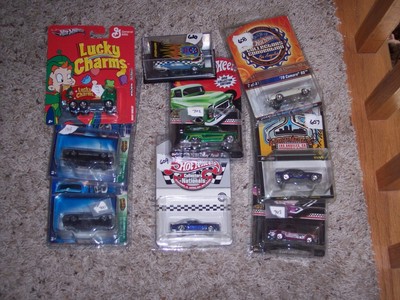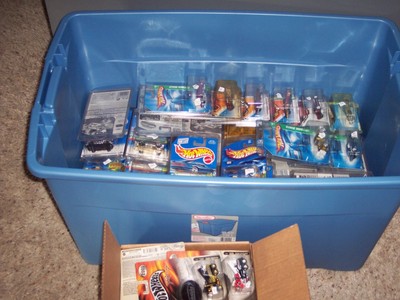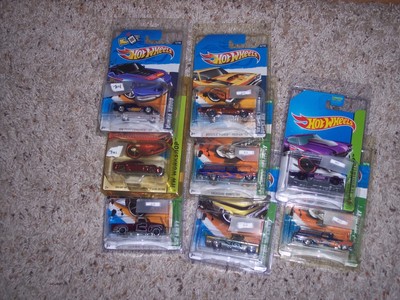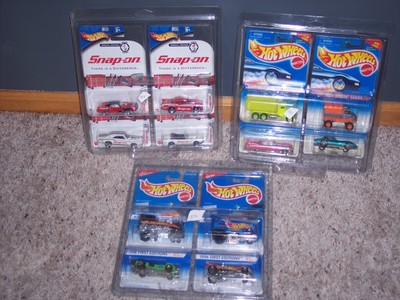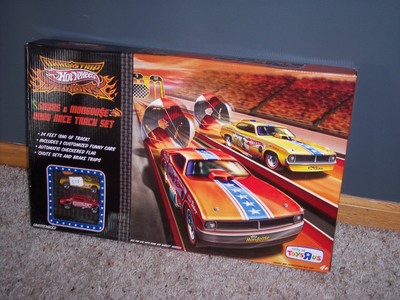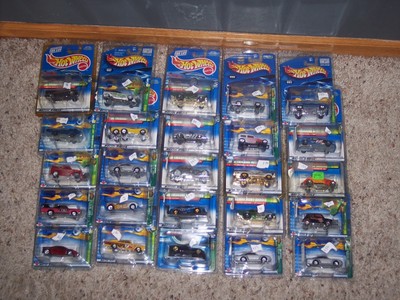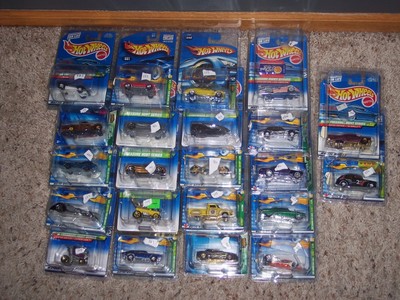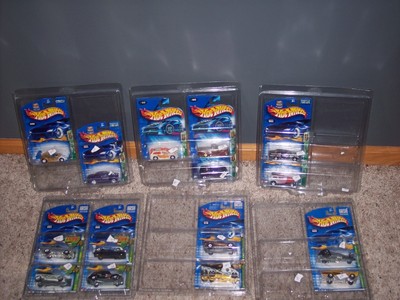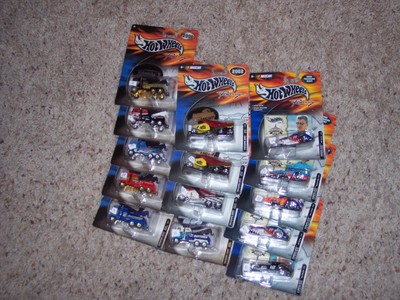 GRAB BAG - RARE OPPORTUNITY OF 1995 67 CAMARO TREASURE HUNT CAR - PLEASE READ
Description
HI, UP FOR AUCTION IS A HOT WHEELS TREASURE HUNT GRAB BAG - PLEASE READ THE ENTIRE LISTING BEFORE DECIDING ON PURCHASING A GRAB BAG.... IF YOU WILL BE UPSET FOR RECEIVING A REGULAR TREASURE HUNT CAR OR A SECRET TREASURE HUNT CAR FOR $24.00 THEN THIS AUCTION ISN'T FOR YOU... I WANT NOBODY PARTICIPATING IN THIS AUCTIN WHO IS PLANNING ON LEAVING NUETRAL OR NEGATIVE FEEDBACK FOR NOT LIKING THE ITEM THEY RECEIVED... THIS IS A GREAT AND RARE OPPORTUNITY TO RECEIVE AN INCREDIBLE HOT WHEELS ITEM- ONE LUCKY SOMEONE WILL BE RECEIVING A 1995 67 CAMARO TREASURE HUNT CAR - I HAD 2 OF THESE CAMAROS AND THE FIRST ONE HAS BEEN WON ON A PULL ALREADY - CONGRATULATIONS GARY - HE WON ONE OF THE 1995 67 CAMAROS... FIRST OFF IF YOU ARE USING A CELLL PHONE PLEASE SCROLL TO THE BOTTOM OF THE PAGE AND CLICK ON CLASSIC SITE OR SCROLL TO THE TOP OF YOUR PHONE AND CLICK ON THE 3 DOTS TOP RIGHT CORNER AND VIEW IN DESKTOP SETTING... ONCE YOU CHOSE ONE OF THESE OPTIONS YOU CAN VIEW THE ENTIRE LISTING IN FULL AND PLEASE DO SO!!!! THIS IS A GRAB BAG FEATURING 295 REGULAR TREASURE HUNT CARS - 222 SECRET TREASURE HUNTS - 37 SUPER TREASURE HUNTS - 10 DAN WELDON CARS - THERE ARE12 1995 TREASURE HUNT CARS AND ONE OF THEM IS THE 1995 67 CAMARO TREASURE HUNT CARS - YES THERE WERE 2 1995 TREASURE HUNT CAMAROS BEING OFFERED IN THIS GRAB BAG BUT NOW THERE IS ONLY ONE REMAINING.... THIS IS THE REAL DEAL WITH THE OPEN STEERING WHEEL - THE FAKES HAVE CLOSED STEERING WHEELEL. THE1995 CAMARO CARD IS BAD BUT THE CAR IS MINT AND THE PACKAGE IS UNOPENED).... THERE IS ALSO 1 LUCKY CHARMS TRUCK - 5 RARE CONVENTION CARS MOSTLY CAMARO - CONVENTION DRAG BUS - HOT WHEELS DEMON RACE CAR SET - TOYS R US EXCLUSIVE - 2 RARE GRAY CUDAS - AND MUCH MUCH MORE...… IN TOTAL THERE ARE ALMOST 600 ITEMS BEING OFFERED --DOES THIS MEAN YOU WILL RECEIVE 600 CARS WITH ONE PURCHASE? NO, YOU WILL NOT RECEIVE 600 CARS WITH ONE PURCHASE.... THERE ARE 3 FOUR CAR BLISTERS SHOWN IN THE PICTURES- JUST THESE 3 NUMBERS DRAWN YOU WILL RECEIVE ALL 4 CARS IN THE 4 CAR PROTECTO.... YOU WILL RECEIVE 1 CAR FOR EACH NUMBER PULLED AND EACH PULL OR DRAW IS $24.00 PER ITEM IF 4 ITEMS ARE PURCHASED AT ONE TIME YOU WILL RECEIVE A 5TH ITEM FREE THIS WOULD BE 5 CARS FOR $96.00 SHIPPED... THIS IS MY 3rd TIME RUNNING THIS LISTING BECAUSE SOMEONE ALWAYS CRIES TO EBAY THEY DIDN'T GET WHAT THEY WANTED IN THE GRAB BAG - IF YOU READ THIS AND FEEL THIS IS A SCAM PLEASE DO NOT PURCHASE FROM ME - PLEASE DO NOT PARTICIPATE... I SET THIS UP AS FAIR AS I CAN AND I EVEN OFFER A SKYPE OPTION TO WATCH YOUR NUMBERS BEING PULLED... IF YOU THINK YOU HAVE THE CAJONES TO TRY READ ON - EACH GRAB BAG CONSISTS OF 1 ITEM YES 1 CAR - EACH CAR IS $24.00.. IF YOU PURCHASE 4 GRABS AT $96.00 YOU WILL RECEIVE A 5th GRAB FREE - SOME CARDS DO INCLUDE A PROTECTO PACK AND NOT ALL CARDS ARE PERFECT SO IF YOU ARE LOOKING FOR A PERFECT CARD PLEASE DO NOT PARTICIPATE - IF YOU THINK YOU SHOULD RECEIVE A SUPER BECAUSE YOU PURCHASE 4 GRAB BAGS AND YOU RECEIVE 4 SECRET TREASURE HUNTS PLEASE DO NOT PARTICIPATE.... THIS IS ALL DONE BY THE LUCK OF THE DRAW!!!!! ALL CARS HAVE NUMBERS ON THEM AS YOU CAN SEE SOME IN THE PHOTOS - EACH CAR IN EVERY BOX HAS A DIFFERENT NUMBER TAPED TO THE BLISTER MY KIDS THEN DRAW FROM A BOX OF NUMBERS WHICH MATCH THE NUMBERED CARS - YOU WILL THEN RECEIVE THE ITEM WITH THE MATCHING NUMBER THAT IS PULLED FROM THE BOX... I DO OFFER A SKYPE OPTION SO FEEL FREE TO WATCH YOUR NUMBER OR NUMBERS DRAWN FOR YOU BY MY KIDS.... AS I SAID IT IS ALL A LUCK OF THE DRAW…. I DON'T WANT ANYONE WHINING TO ME THEY RECEIVED $5.00 WORTH of CARS AND THEY SPENT $96.00 - THIS IS A FRIENDLY FUN CHANCE TO GET A GREAT ITEM AT A GREAT PRICE - I WILL TELL YOU NOW NOT EVERYONE WILL BE HAPPY SO IF YOU WON'T BE HAPPY RECEIVING REGULAR OR SECRET REGULAR TREASURE HUNT CARS PLEASE DO NOT PARTICIPATE IN THE GRAB BAG AUCTION.... AS I SAID I DO OFFER A SKYPE OPTION YOU CAN WATCH YOUR NUMBER OR NUMBERS BEING DRAWN - ALL NUMBERS WILL BE PULLED BY MY 2 BOYS WHO ARE NOW 12 AND 15 YEARS OF AGE.... ALL FEEDBACK WILL BE LEFT ONCE MY FEEDBACK HAS BEEN RECEIVED... THERE ARE ALMOST 600 ITEMS IN THIS GRAB BAG SO PLEASE WEIGH YOUR CHANCES BEFORE DECIDING TO PURCHASE I WANT YOU TO BE HAPPY NO MATTER WHAT YOU RECEIVE... THIS IS NOT A SCAM BUT AS I SAID PLEASE DO NOT PARTICIPATE IN THIS GRAB BAG IF YOU FEEL THIS IS A SCAM IN ANY WAY... THANKS FOR LOOKING AND IF YOU DECIDE TO PURCHASE BEST OF LUCK... I'M SORRY I CAN'T SHOW EVERY CAR I HAVE THEY ONLY ALLOW FOR 12 PICTURES I SHOWED AS MUCH AS I POSSIBLY CAN... MY ITEMS ARE LOCATED IN THE UNITED SATES OF AMERICA AND SHIP FROM THE UNITED STATES OF AMERICA NOT THE UNITED STATES AS STATED ON EBAYS PAGE... THE UNITED STATES ONLY CONSISTS OF 16 TERRITORIES OF WHICH 5 ARE OCCUPIED - THAT WOULD BE GUAM, PUERTO RICO, SAMOA ISLANDS, VIRGIN ISLANDS, AND DISTRICT OF COLUMBIA (WASHINGTON DC - UNITED STATES) THE DISTRICT OF COLUMBIA IS 10 SQUARE MILES - ALSO ALL MILITARY PERSONEL BELONG TO THE UNITED STATES... I AM FROM THE STATE OF ILLINOIS WHICH MAKES ME A STATE CITIZEN OF AMERICA … PLEASE DO NOT BELIEVE ME - GOOGLE THIS INFORMATION YOURSELF... WE ARE A NATION WITHIN A NATION - SAVE AMERICA... I DID TRY MULTIPLE TIMES TO HAVE MY LISTINGS CHANGED TO MENTION USA INSTEAD OF UNITED STATES BUT THEY WOULD NOT CHANGE THE FORMAT THEREFORE I AM LETTING YOU KNOW MYSELF... I AM NOT TRYING TO OFFEND ANYONES BELIEFS; THANKS FOR YOUR UNDERSTANDING... "without prejudice" UCC1-308
No further condition information found.
This item is a
good enough match
to
grab bag rare opportunity of 1995 67 camaro treasure hunt car please read
.
Gimmu only found one item matching your search.